GTK aps background in Ksystray
Posted: Sat Jan 19, 2008 5:05
Hello.
Since I change my GTK theme with gtk-engines-qt I have an ugly background in the GTK aps icons in the KDE system tray.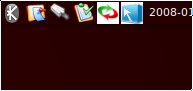 I prove to upgrade the version of gtk-engines-qt but not solved.
Prove to erase all ~/.gtk* files and not solved...
¿Can you help me please?
Thanks
PD: Sorry for my English.