Update:
This is how to get an icon that automatically makes a screenshot and uses that as an icon for your desktop folder in KDE (i guess it can also work on Gnome, but i don't know the paths for the icon cache).
You need:
* scrot (command line application to make the screenshots, install it from repository)
*
desktop.svg
(You will use this for the icon)
*
desktop.sh
(put this script into Autostart)
Modify desktop.sh (in a text editor) to adjust paths or to specify another application, for example. Make sure it is executable.
You can also alter the SVG icon. You could combine it with an icon of a laptop or monitor, for example.
----------------------------------
Hey all,
i'm trying to figure out a way to make an updating desktop icon.
So far i have a "desktop.SVG" that uses a "desktop.png", but i don't know how to automatically make a screenshot and save it as "desktop.png".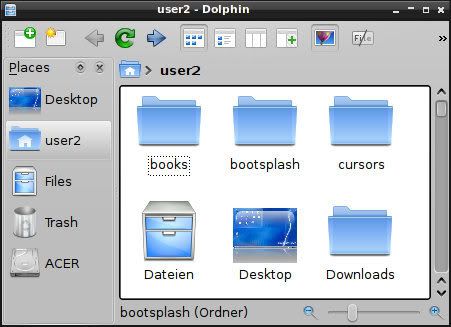 (You can also see the limitations of SVG: i wanted an alphablended reflection and had to use a (grey) gradient on top of the reflection.)
Edit:
Please, don't tell me it's already available in KDE4.3.